Quality Assurance Home Inspection Services
Quality Assurance Home Inspections, Inc., is dedicated to providing first-rate home inspections that reveal where a home's apparent strengths lie, where defects are present, and where the home could benefit from improvement. We adhere to the strict Standards of Practice as written by ASHI and the State of Illinois.
Buyer's Inspection
For this inspection, we'll comprehensively evaluate the visible and readily accessible features of a home, uploading a full report of our findings before we leave the property. This report will provide substantial insight into the home's overall condition, making it easier for you to make an informed and confident decision about a purchase.
We inspect the following components:
Roofing System (including gutters & downspouts)
Basement
Foundation & Crawl Spaces
Structural Components
Driveways & Walkways
Deck
Attached Garage
Exterior (doors, windows, siding)
Interior (doors, windows, floors, walls, ceilings, stairs)
Attic, Insulation, & Ventilation
Fireplace & Chimney
Electrical System
Plumbing System
HVAC Systems
Built-in Appliances
In the event that a roof can't be walked due to weather or pre-existing damage, we'll utilize Aerial Drone Photography to continue the inspection as planned. We also use a moisture meter and gas detection equipment as necessary to ensure that a home is safe and unaffected by the more elusive issues that can sometimes occur.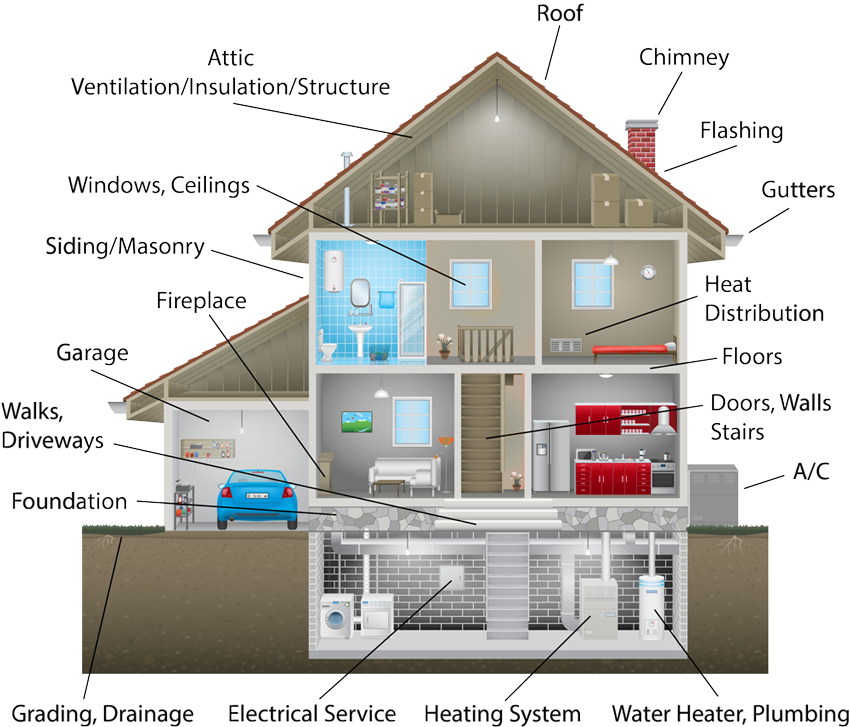 We also offer these services:

Radon Testing
Radon contamination inside a home happens more often than people tend to think, and it's important to make sure that your prospective home is safe from this radioactive gas before making an investment. We are State of Illinois Licensed Radon Measurement Professionals who are trained and equipped to assess a home for any concentrations of this difficult-to-detect gas. 

Commercial Property Inspection
We offer this inspection to anyone who is thinking about investing in a commercial property. No matter how big or small the property may be, we're able to conduct a full evaluation of the visible and readily accessible components. With an accurate and complete understanding of a commercial property's condition, you'll be better prepared to make the right decision about a potential investment.

New Construction Inspection
It's ideal for every homebuyer to have confidence in their newly constructed home. Before the builder's final walkthrough, we'll take a thorough look at the property, identifying any safety issues or material defects that should be corrected by the contractors before the project can be considered finished.

New Construction Phase Inspection
This inspection serves the dual purpose of keeping new construction on track while also giving peace of mind to the homebuyer. We'll inspect the home at several different stages of the build to find what may have been overlooked during the construction process and to check for defective or unsafe areas that could cost the homeowner in the future. We can perform this inspection as often as the client would like during the various build phases.

11th Month Warranty Inspection
Before the builder's 1-year warranty is no longer valid on your new home, we recommend scheduling this inspection. We'll thoroughly evaluate the home for any issues that you need to be aware of, giving you a chance to consult the terms of your warranty while it's still active. Depending on the nature of an issue and the terms of your warranty, you may not bear responsibility for the cost of repair work.

Re-Inspection
Re-Inspections are designed to provide clients with peace of mind before they move forward with a potential investment. After a component that was found to be defective during our original inspection has been repaired or replaced, we can return to the home to make sure that any changes were performed correctly. If additional issues are found, you'll be able to make sure that the seller addresses them before negotiations continue.

Mold Inspection
Mold inside a home is a common problem and it comes with a wide range of health risks. This inspection is referred out to a top specialist in the area who will thoroughly assess a home's structure for evidence of actively established mold or damage caused by a previous mold problem. A Mold Inspection is designed to be scheduled as an add-on service to a Buyer's Inspection.

WDO/Termite Inspection
Sometimes a home can seem pristine at the surface level, but a trained eye may find termite damage that compromises the integrity of the structure. This inspection is referred out to 3rd party specialists who are highly knowledgeable about wood-destroying organisms and trained to spot any signs of damage.