There's One Way to Know for Sure
The decision to buy a home isn't one to be taken lightly, and it's a wise course of action to learn everything that you can about a home's condition before sitting down to negotiate terms with the seller. At Quality Assurance Home Inspections, Inc., we offer an investigative home inspection that educates prospective homebuyers on what to expect from an investment. Rather than concerning ourselves with the cost and subjective value of the home, we provide an objective assessment of the home's structure and systems—enriching your understanding so that you can make an informed decision.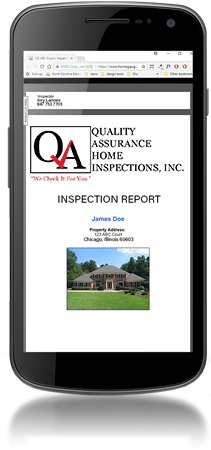 Your Report Delivered as Soon as the Job Is Done
Buying a home in Illinois is subject to a stricter schedule than most other states, making it critically important to obtain the results of a home inspection as swiftly as possible. After we've inspected your prospective home, we'll upload a full report of our findings before we leave the property. You'll be able to access your comprehensive report via login on our website, where you'll find itemized summaries of each component, including pertinent photographs and videos to help you put it all together. We also include access to the cutting-edge Create Request List™ (CRL™) feature by HomeGauge.
The CRL™ Was Made With Homebuyers in Mind
When you access your inspection report, you'll be able to select any defective items to include in a convenient digital list of project and repair requests
Communication is improved across the board with the CRL™, allowing you and your real estate agent to easily work together to come up with the best plan for negotiating your requests with the seller
The CRL™ can be used on your personal computer, laptop, mobile phone, or tablet
Chicagoland's Licensed Professional Home Inspections
We offer comprehensive home inspection services to the Fox Valley Area and Western Suburbs of Chicagoland.
Call us for more information about our inspection discounts for active and veteran members of the U.S. military, police, firefighters, teachers, EMT's, and nurses.
We accept Zelle, Venmo, Check, and Credit Cards (+4% convenience fee for all credit card transactions.)